Genisys Blog
WHICH NEW DOCTOR WHO COMPANION ARE YOU?
Posted by Tech Editor | November 20, 2013 | No Comments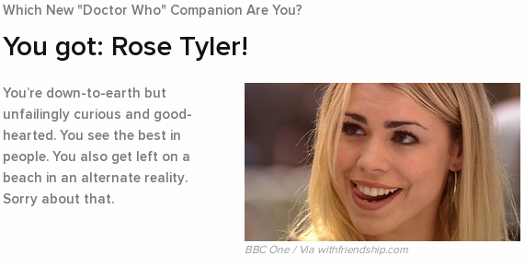 We are now just days away from the BBC's big international simulcast of  "The Day Of The Doctor". In case you don't count yourself a Whovian, and haven't had that on your calendar for months, that is a special event episode of Doctor Who to celebrate the 50th Anniversary of the show. It's such a big deal that it will be shown all over the world at the same time. So, with that in mind, here's a little bit of internet shenanigans to start your Wednesday. BuzzFeed has an online quiz that will reveal which of the new Doctor Who companions you are most like. As you can see above, I got Rose.